Psychotherapy
My approach to therapy is nonjudgmental and collaborative and draws from my training in psychodynamic, trauma-informed, attachment, cognitive behavioral (CBT) therapies, as well as mindfulness practices. Common issues addressed include depression, anxiety, intrusive thoughts, trauma, parenting, attachment, transitions, roles and identities, and body image and acceptance.
I also follow
health at every size (HAES)
principles, which for me as a therapist means I am weight-inclusive and fat positive and recognize the impact of weight stigma.
I specialize in working with individuals with perinatal mood and anxiety disorders like prenatal or postpartum depression or anxiety, adjustment challenges, difficulties with bonding, and recovery after stabilization from a severe PMAD like postpartum mania or psychosis.
I support individuals and couples through challenges related to reproductive health with compassion and respect. I am sensitive to the needs of folks struggling with infertility, individuals considering abortion or needing to terminate a pregnancy, and those experiencing infertility or who've had miscarriages, stillbirths, and pregnancy losses.
At heart, I am a social worker and strongly believe in the values that are at the foundation of this profession: service, social justice, the dignity and worth of every person, the importance of human relationships, integrity, and competence. I welcome clients with diverse identities with respect to race, ethnicity, national origin, color, sex, sexual orientation, gender, religion, immigration status, size and ability.
I recognize the many dimensions of privilege I hold and that the therapeutic relationship can also create an imbalance of power. I hold space for the ways in which larger systems and oppressions affect us and seek to understand your experiences, strengths, values and challenges knowing that you are the expert on your life.
Frequently Asked Questions about Therapy with Laurie
Do you accept insurance?
I know that insurance coverage helps make therapy accessible to many who would not otherwise be able to afford therapy, but insurance companies also limit your confidentiality, often place limits on mental health benefits, and require that I assign you a diagnosis. At this time, I am contracted with
Premera,
Lifewise,
and
First Choice
. I also offer courtesy billing as an out-of-network provider. For out of network insurances, you pay for the session and then I submit the claim to your insurance provider; if you have out-of-network benefits the insurance company will reimburse you the portion that they cover.
If you would like to utilize insurance benefits for therapy with me, you need to call your health insurance provider ahead of time and ask the following questions:
Does my plan cover outpatient individual (or family) therapy with a licensed independent clinical social worker (LICSW)? The CPT codes you can ask about are 90791 (initial psychiatric evaluation), 90837 (55 minute psychotherapy), and 90834 (45 minute psychotherapy)
Do I have out-of-network benefits for those services?

Do I have a

deductible for in-network services? For out-of-network services? How much have I met toward that deductible?

What is my copay or what percentage of treatment do I pay when seeing a mental health provider for in-network and for out-of-network?
How many sessions does my plan cover in a year? How many sessions do I have left?
Do I need pre-authorization or a referral from my primary care provider?
What is the process to get reimbursed for out-of-network services?
Is Laurie Ganberg, LICSW in network at her private practice location (10740 Meridian Ave N, Seattle). You may need my NPI #1639208234
I know that navigating mental health benefits and insurance can be a challenge. If you have questions about how you can use your insurance benefits to see me, please feel free to call me.
What are your fees?
I charge $200 for an initial appointment where I gather history, assess current challenges, and make treatment recommendations, including referrals if I do not think I am best equipped to meet your needs. Follow-up sessions are $150. If you have a Health Reimbursement Account or Flexible Spending Account, I can provide paperwork to submit for reimbursement from that account. I accept HSA/FSA cards, credit cards, and checks.
What is your cancellation policy?
I reserve a block of time for our work together. You can cancel or reschedule an appointment with 24 hours notice. If you cancel an appointment with less than 24 hours notice, or fail to show up, you will be charged a $120 late cancel/no show fee; missed appointments cannot be billed to insurance. The exception to my cancellation fee is for unforeseeable illness – for yourself or a dependent. Please contact me to reschedule if you have a fever or other symptoms of a virus.
How long will we work together?
This depends on what brings you to therapy. I see some clients for very short-term, focused work. Other clients elect to continue the therapeutic relationship to address ongoing challenges. In all cases, the length of therapy is something we discuss together and periodically re-evaluate to ensure that therapy remains useful and is addressing your goals. ​
You specialize in perinatal mental health - can I still see you for therapy if I'm not pregnant/postpartum? Do you just see women?"
Yes! While I do have a specialty in perinatal mental health, I also see adults (18 and older) for issues related to stress, mood, anxiety, identity, or relationship challenges. I enjoy working with expectant and new parents of all genders. I welcome transgender individuals to my practice and am LGBQ/T* affirming. The best way to determine if I might be a good fit for you is to
contact me
or schedule a free phone consultation (click orange button below).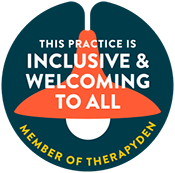 You'll receive my Disclosure Statement and Practice Policies via my client portal if we decide to work together, but you can also download a copy
here
.